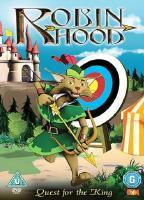 Robin Hood and his merry men (and a feisty Maid Marian) hear that there is a traitor in King Richard's camp. Knowing that it can only mean a foul plot by Prince John and the Sheriff of Nottingham, they set out to go to the king's aid.
Created by: BKN Entertainment / UTV Software Communications LTD
Released: 2007
Language: English
Country of Origin: UK
Style: 3D animation
Featuring the voices of:
| | |
| --- | --- |
| Gary Martin | |
| Jo Wyatt | |
| Adam Rhys Dee | |
| Rob Rackstraw | |
| Melanie hudson | |
| Simon Greenall | |
| Tim Bentinck | |
Directed by: Ric Machin and Vijay Kadoo
Produced by: Allen Bohbot and Rick Ungar
Executive Producers: Jvotirmoy Saha
Musical Score by: Allen Bohbot
Writing Credits: Rick Ungar and Sean Catherine Derek
Art Directors: Ric Machin
Based on: Robin Hood legends and ballads
Of Interest:
Allen Bohbot, in addition to being the producer and writing the score, is chairman and CEO of BKN. A few more names in the crew appear in more than one role. Must be a small company.